A lot has happened since the last devblog. And I think it's nigh time we looked back to reflect on what's been accomplished so far:
1. First and foremost, our latest release, v0.2.4, just came out a few days ago. With this release came the UI improvements we had been working towards for a while now, amongst various other features. If you haven't downloaded the game yet, check out our releases page here to give it a try. A new promotional trailer also showcases some gameplay footage from the latest release here.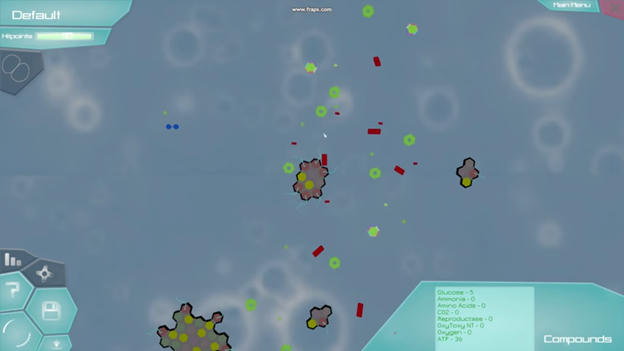 2. On that topic, you've probably noticed we're still using hexagons for the cells. Yes, we want real looking cells too, but the programmers are still working away to get something of the sort implementable into the game. However, there are some very cool prototypes created thus far showcasing some of the work that's been done, which you can see here and
here
.
3. As you've probably noticed, we have a new website design, with a host of improvements from our older one. Thanks to dontpanic, Oliveriver, and WJacobC (forgive me if there are others I'm forgetting) for getting that up and running. It looks much more elegant and professional. The link to the releases I have above will lead you to the new website, so check it out.
4. Something you might not have noticed if you have been an active user for more than a month is that the GET INVOLVED thread has been completely redone. Whereas before it was just a catalogue of mostly important threads, it has now been converted into a homepage of sorts for new users, meant to settle them into a position in the field of development they are interested in.
https://thrivegame.canadaboard.net/t1097-get-involved
The idea is that new users who have had their applications accepted can navigate through the links to what topic interests them, find out what guidelines there are, who's in charge, and what needs doing, and can join the development cycle with minimal hassle. Obviously, there will be a lot of work needed to refine and improve it, but its much more helpful to new developers than just a big list of links without description.
5. Lastly, following the release of 0.2.4, we have started to pursue some marketing to external sources to try to attract new developers. We were mostly waiting for this new release just so that we would have something half-decent to show for. You might be excited at this news (we have certainly had many fans telling us for a long time to reach out to more people), but don't go ahead and start advertising on forums and websites yourselves. We want our outreach to be kept organized and professional (and we've had some bad cases of fan-advertising). If you want to help, see if you can find websites, forums, subreddits, or other outlets on the internet with game developers looking for projects to join, and tell us about them. Then we can go there and see if anyone is interested in the project.
All in all, we're glad to be moving forwards, and we're glad to have the community supporting us!
And now, I'll leave you with a video showcasing some beautiful terrain generation that has nothing to do with the Microbe Stage, but could give us some inspiration (and maybe ideas, collaboration with this project anyone?) for terrain generation in the later stages.
-NickTheNick